Art By Zephra
Concept Artist
&
Illustrator
Get A Playmat or Metalic Print
I'm a full time artist, and half of my income comes from Commissioned Fantasy Illustrations from fans and followers.

You Can Follow me on Twitter for commission slot opening dates.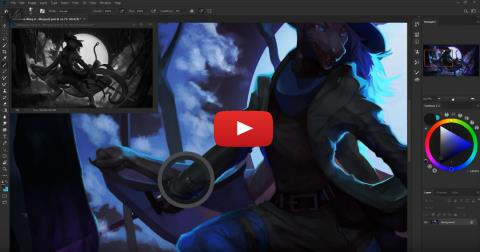 Commissions are recorded, but recordings are not guaranteed as files sometimes corrupt.
---
How I Do
Commissions.
While I am booked several months in advance, my turnaround is considered fast by many once your Commission Start Date is reached.
Wing-it Commissions open up every few months with a 1 to 4 day turn-around.

Full Illustrations I have one slot a month and take between a week to a month to complete depending on complexity, start date is typically two months out but depends on my availability.
My Art
In Your Retail Store
I'm available for Remote Freelance work and In-Studio work within the Austin TX area.

I work off either fixed scope quotes or negotiated day rates depending on project volume.
For large business projects please use the form in this section or email me at artbyzephra@gmail.com so we can discuss scope and form a quote together.
Wholesale Info For Retail.
Artwork Delivered To Your Store
You can start the process by filling out the form on this page.
Minimal Order is 20 playmats or 20 prints or 1 Metal Canvas.
You can mix SKUs in an order - for example: 5 of one design and 15 of another.
But you can not mix product type SKUs so you can not do 5 playmats and 15 prints due to how these are packed and shiped).
Legacy designs available on request.
Online Orders
Supported By
I've partnered with BoldKobold for their exceptional merch quality and love of monster & fantasy art.

BoldKobold helps fantasy and monster artists distribute merch across the globe with their quick shipping and convention presence.
They make it easy to buy my Metallic Prints and Playmat merch, you simply have to visit my product collection, select your products, maybe add one of BoldKobold's awesome D&D inspired pins, and simply checkout.

Give @BoldKobold a follow to hear about upcoming deals and announcements.
Commissions Currently Closed
Commissions are currently closed.

Openings are every few months, and surprise openings are sent to my email list fan club first, then twtiter.

To get notified of commission openings in advance just enter your email below.
You'll also get behind the scenes content, images, upcoming projects, special one-time offers,

and life stories I've never shared.

Not all at once of course (:
Success!
Make Sure You Received My Email!
Two emails should have just been sent to you, it can take up to 5 minutes to arrive and spam filters can grab them at times.

In the first email, you must open and click a link to confirm your email address.

In the second email you'll find a cute picture of my pet cat, and info about what to expect in the coming days from me.

Email me at ArtByZephra@gmail.com if you have any issues.
What even is a "Wing-It" Commission?
A Wing-it is a quicker form of full illustration. Essentially you'll give me the direction you want the illustration to take place, and I'll "Wing it" from there to create the illustration.

While I'll be taking some creative liberties with what gets put into the scene, you will be working with me by approving thumbnails, sketches, and color tests to help me best match what you want.
---
Do you do NSFW Commissions?
I do take artistic nudity and erotica commissions.
Other elements like battle and gore is also fine.

For just straight Porn Wing-It commissions, I am not taking any at this time.

If your unsure if your commission fits please feel free to submit your commission request and we can talk more on what you are looking for.
---
Do I need to pay up-front?
Not to submit the form on this page.

After we talk and I accept the Wing-It commission,
You will have a week to pay a 25% down-payment (or $75 USD which ever is larger) to secure your spot in my commission queue.

Then, full payment will be needed two weeks before the image is scheduled to start. This is because Wing-It Commission are completed a few days after starting unlike Full Illustrations which might be done over two months.
---
When will my commission be worked on?
Generally 3 to 6 months out depending on your spot in my commission queue. After the down payment is made you will be given an estimated date.

After payment is completed and within two weeks of that date an exact date will be locked in so you can be ready to give me feedback on the piece.
---
Can I get a physical print from you when the piece is done?
Yes, I offer one-off print runs of both playmats, mousepads, and my Full Metal Canvas prints. When you get your commission you'll be provided more details on these upgrades.
---
Do you have a public list of commissions your working on?
Yes, you can find my public Trello board here. This does not have every single thing I'm working on but it has all the commissions.
---
What if I can't pay when my commission date comes up?
Shit happens and sometimes at the worse times. Ideally, you would let me know well in advance of any issues with paying so we can adjust your slot position where it works for both of us.

Additional: If payment is not made by two weeks before the work is to be started, you will not lose your commission slot the first time this occurs. Instead, your slot will be moved to the end of the queue to keep things moving.
---
Will you be selling the image at conventions?
Maybe. I reserve the right to take the artwork I draw to the printer for prints, play mats, and canvas pieces at any time, but I do not sell every image I draw. I do however have a commission upgrade method so you can get your commission printed at a discount when your commission is completed.